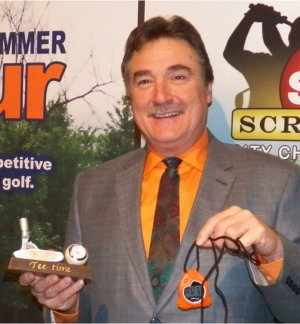 Grumpy gets his loot.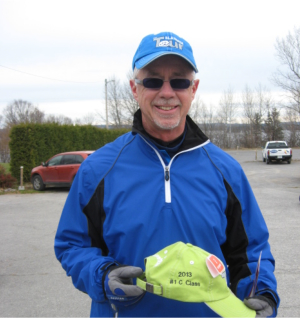 Gator displays his new #1 hat!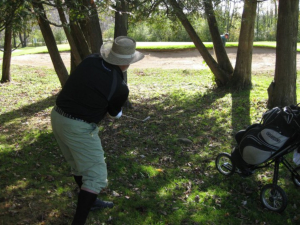 Grumpy getting out of jail.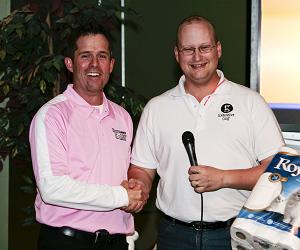 BullDog, right, with The Commish at the
2007 Slammies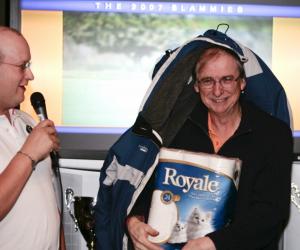 Ticklar victim Bookie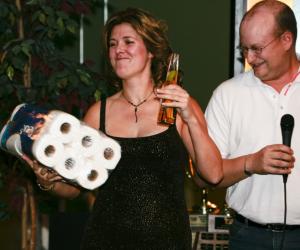 Flash, thanks to The Lad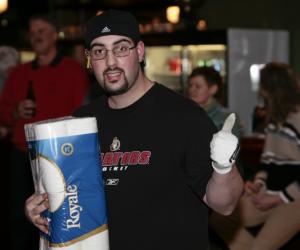 Proud club member, Little Ticklar
For those who are new to match-play format, if one player beats the other 10 holes-in-a-row (or nine wins plus one tie) they've 10-holed their opponent and the match is over.
Thanks to Jim "Grumpy" Backs for his neverending support of the Slammer Tour!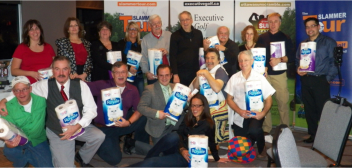 10-Hole Clubbers
2010-2012 10-Hole Clubbers
Click here for the 10-Hole Club Inductees,
including all of the history back to 2001.
2009 10-Hole Clubbers
Inductee
Courtesy of...
Course
Date
PizzaMan
IronMaiden
Falcon Ridge
Nov 22
Rulz
Chilly
Cedarhill
Nov 21
WildCard
Chilly
Falcon Ridge
Nov 14
Littlest Ticklar
SpinMaster
Smuggler's Glen
Oct 25
Adams Golf
TJ
Smuggler's Glen
Oct 25
Mrs. Malone
Malone
Smuggler's Glen
Oct 17
Sutty
Wilfred
Canadian
Oct 3
SpinMaster
Smitty
Cedarhill
Sept 23
AnotherGuy
Chilly
Montebello
Sept 20
Papa Malone
Hacker
Chateau Cartier
Sept 11
Papa Malone
DeeJay
Chateau Cartier
Sept 11
Dools
Stevie Ray
Canadian
Sept 7
Duffy
Boomer
Metcalfe
Sept 2
ShorTee
Akeem
Talon
Aug 23
ShorTee
Toro
Talon
Aug 23
ShorTee
Boomer
Canadian
Aug 22
Grumpy
Monkee
Falcon Ridge
Aug 13
Grumpy
Dyke
Marshes
Aug 8
Lady Jazz
Boomer
Outaouais
Aug 4
Lady Jazz
ZeeMan
Outaouais
Aug 4
AnotherGuy
Crush
Mountain Creek
Aug 1
Wilfred
Rambo
Stonebridge
Jul 28
WildCard
Chilly
Predator
Jul 26
Little Ticklar
KidsClub
Prescott
Jul 11
Mrs. Malone
BullDog
Lombard Glen
Jun 27
NK Bear
Malone
Lombard Glen
Jun 27
HP
Billiards
Champlain
Jun 24
ShorTee
Kirkulese
Pine View
Jun 23
Red
Lefty
Casselview
June 21
Red
The Boss
Casselview
June 21
ShorTee
Chilly
Arnprior
June 20
PizzaMan
Chilly
Arnprior
June 20
HP
Kanata
Metcalfe
June 17
Steamer
Rulz
Greensmere
June 16
Steamer
Chef
Greensmere
June 16
Steamer
KaDaver
Greensmere
June 16
Donald Book
Norm
Renfrew
June 14
SpinMaster
Chef
Outaouais
June 9
Wilfred
ProZee
Nation
June 7
Mapper
The Kid
Le Sorcier
June 6
ShorTee
Chilly
Chateau Cartier
May 26
ShorTee
KaDaver
Chateau Cartier
May 26
SuperDave
Chilly
Cedar Glen
May 24
Sutty
IttyBitty
Metcalfe
May 20
ShorTee
PJ
Prescott
May 18
Lucky
Chilly
Stonebridge
May 16
Red
Lefty
Lombard Glen
May 16
Red
ProZee
Lombard Glen
May 16
Flash
Chef
Vieux Moulins
April 13
2008 10-Hole Clubbers
Inductee
Courtesy of...
Course
Date
Bed
Suds
Casselview
Nov 9
Burnhard
Chilly
Metcalfe
Nov 4
IronMaiden
CannyJack
Casselview
Nov 2
G-Neuf
PinShark
Champlain
Sep 24
Eeyore
Tootsie
Vieux Moulins
Sep 13
The Chin
ProZee
Pineview
Aug 20
Cloudy
TeeDub
Casselview
Aug 17
ZeeMan
Chilly
Outaouais
Aug 12
Goldilocks
Dyke
Marshes
Aug 3
Alfa Ray
Chef
Outaouais
July 22
G-Neuf
Boomer
Champlain
July 16
BB Frog
Boomer
Chateau Cartier
July 8
The Chin
Steamer
Nation
July 6
KeenGolfer
Pedro
Upper Canada
July 5
Mrs. Malone
Juice
Lombard Glen
June 21
Gallinator
ZenGirl
Lombard Glen
June 21
SunnyBoy
Sunny
Dragon Fly
June 15
RedDog
Hacker
Arnprior
June 8
PaperGuy
GolfNut
Falcon Ridge
June 3
Stevie Ray
Zenantics
Casselview
June 1
BigM
GolfNut
Greensmere
May 28
Little Ticklar
DeeJay
Champlain
May 14
Horsie
Boomer
Falcon Ridge
May 13
BullDog
Hambolo
Vieux Moulins
May 7
BullDog
Ticklar
Vieux Moulis
May 7
Cisco
2Fore
Hammond
May 4
2007 10-Hole Clubbers
Inductee
Courtesy of...
Course
Date
Bookie
Ticklar
Cloverdale
Oct 6
MoneyMan
Stevie Ray
Stonebridge
Sep 25
MadMax
The Lad
Falcon Ridge
Sep 19
Marmotte
Dazed
Greensmere
Sep 1
XL Easy
Slug
Upper Canada
Aug 12
Mapper
The Lad
Chateau Cartier
Aug 8
Mapper
Bookie
Renfrew
Aug 4
SpinMaster
The Lad
Renfrew
Aug 4
Mr. MotoMaster
Gabbar
Kingsway
Aug 1
Thespian
Boomer
Manderley
Jul 10
Marmotte
Suds
Prescott
Jul 8
Gabber
FlagPole
Stonebridge
Jun 19
Gabbar
Ridzie
Stonebridge
Jun 19
Flash
The Lad
Eagle Creek
Jun 17
Little Ticklar
Ticklar
Prescott
May 26
TinCup
Gabbar
Stonebridge
May 22
TinCup
KidsClub
Stonebridge
May 22
Gabbar
BullDog
Canadian
May 15
AceHole
WizeGuy
Kingsway
May 9
Ruskie
Zenantics
Nation
Apr 14
2006 10-Hole Clubbers
Inductee
Courtesy of...
Course
Date
Beau
Kricket
Vieux Moulins
Oct 18
Kricket
Smitty
Renfrew
Oct 9
KidsClub
BurnHard
Renfrew
Oct 9
KidsClub
Bookie
Renfrew
Oct 9
Speedy
Boomer
Falcon Ridge
Jul 22
Speedy
PuttPutt
Falcon Ridge
Jul 22
The Scotsman
Ticklar
Casselview
Jul 9
Marmotte
Tracy
Le Sorcier
Jul 8
Kricket
Blondie
Upper Canada
Jul 1
Little Ticklar
Ticklar
Canadian
Jun 18
Boomer
Smitty
Manderley
Jun 11
Marmotte
Eeyore
Casselview
Jun 10
Ruskie
Ticklar
Outaouais
May 21
Ruskie
BullDog
Champlain
May 10
Little Ticklar
Hacker
Cedar Glen
Apr 2
BullDog
Ticklar
Cedar Glen
Apr 2
2005 10-Hole Clubbers
Inductee
Courtesy of...
Course
Date
NC
Sean
Chateau Cartier
Nov 2
Beau
Kricket
Arnprior
Oct 22
Bubbles
Chilly
Emerald Links
Oct 8
Bookie
Billiards
Outaouais
Sep 18
The Scribe
Billiards
Outaouais
Sep 18
Gramps
Rulz
Mont St. Marie
Aug 5
Marmotte
Marc Gelinas
Outaouais
Jul 31
Little Ticklar
Boomer
Chateau Cartier
Jul 24
Marmotte
Bookie
Eagle Creek
Jul 17