The Preston Cup: Slammer of the Year
Presented by Billiards & WSM

| | | |
| --- | --- | --- |
| | | Although the Slammer Tour is a competitive match-play tour, we recognize more than "just" great golf talent and victories. Golf is about sportsmanship, self-improvement and attitude and that's why the top Slammie is chosen by fellow Slammers, as opposed to the stats alone. The Preston Cup is awarded at the season-end Slammies, the Tour's official awards ceremony. |

The Preston Cup is awarded to the Slammer who best exemplifies the heart and soul of the Tour, and who receives the most votes in our annual poll, based on these factors:

Sportsmanship
Attendance
Points
Ranking
Winning Percentage
Team performance
After-game participation (volume of beer is not a key issue)
Humour
General contributions to the success of the Tour
Volume of quality quotables

Thanks to Bill "Billiards" and Carole "WSM" Ryan for their generous support of golf's most coveted prize.

Juice is the 2017 Slammer of the Year!
2017
Juice
Mulder
Grumpy
Juice
Gator
IronMaiden
PizzaMan
KaDaver
Grumpy
IronMaiden
KidsClub
Boomer
Ticklar
Stevie Ray
Chilly
Ripzone
Rulz

Click any year above for the history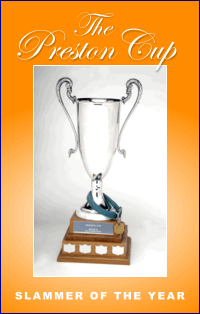 About Our Sponsors
Bill "Billiards" Ryan and his lovely wife, Carole, graciously supplied The Tour with the Preston Cup.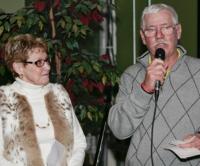 About The Cup

The Preston Cup was named after the Ryan family's dog, Preston. While he wasn't the best-looking, nor the best-smelling nor was he the friendliest dog around, he was fun and tremendously personable... and those are the traits of the Slammer of the Year.

Remember, the Slammer of the Year is voted on by your peers, so work your magic and make some allies.