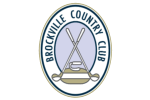 Notables
QUICKSNAP DOGGIE REPORT: There was one lonely dog on the course. Sutty took hole 15 with his 16 footer. Point of interest. Only 4 balls landed on greens out of 24 and 3 of those ended up three putting. Thank you to Irons for doing the Doggie Report. Your volunteerism was appreciated immensely.
With only 6 slammers there was no BROKER4TICKETS SKINS REPORT, but if there was, I am sure I would be thanking Grumpy for presenting it.
The Brockville Railway Tunnel is now open and it is a great place to visit. You can see more information on the tunnel by CLICKING HERE or you can do what we did and ask Potter to give you a tour. See the photo below with Potter, Grumpy, Panda, Mulder and Irons.
Click the image to view a larger version.
There was plenty of talk about scales.
Now THAT is some deep rough.
The extra wide cart path crossing Hole 16 is renamed 'Mulder Street' after Mulder managed to drive his truck in through a back entrance and ended up on this street his first ever event at Brockville a couple of years ago.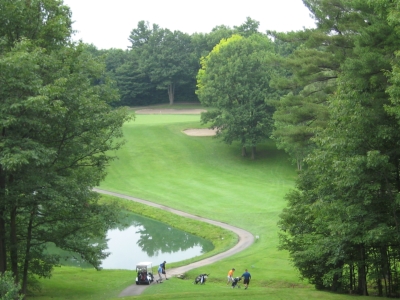 Quotables
"Thanks for catching my lie."
"You can be smart or you can be good looking."....."He can't be either, because I am both."
(after hitting it into treeline.) "Is it ok?"..."The ball will be fine. It won't need surgery....you may never see it again, but it will survive."
"Nice Birdie, too bad it won't be a skin."
"That was a Trooper shot, it was a good one but not a long one."
"I shot my first round under 320 in over 2 years."
"How do I know this fact and you don't"...."I don't listen to him."
Sat Aug 19, 2017
---
Summary


Brockville never ceases to amaze me. This visit Slammers missed the giant duck by a week, but we were treated to a very special tour. Brockville opened their newest tourist attraction which is the oldest Railway Tunnel in Canada. It takes you clear through from the waterfront, north a third of a mile to exit near Pearl street. The sound and light show inside is really great and the history behind this treat is fantastic. See notables to a link or just go and check it out with your kids. It won't disappoint and is DEFINITELY worth the price of admission (Free). Potter gave 4 other slammers a tour full of history of the reopening and we all enjoyed it. Now on to golf. What a day. The weather looked like it might be shakey with some dark clouds passing by every so often but it was a rain free round with sporadic sun and a great breeze off the river. With the BCC club championship taking place we got to run into some of our new friends who played us in the Brockville challenge last month and they were as friendly as ever. This course is a perfect example of a great partner to the Slammer Tour and no wonder it is a favourite of so many Slammers. Thank you Potter and Brockville for hosting us once again. ........................................................................................... Mulder out



Stars
Sutty
not only drove Grumpy to Brockville, he left him there. For that he should have earned first star. But he added to that great feat by going undefeated, snagging the only bird of the day AND the only dog of the day. Well played
Irons
gains the second star for also going undefeated in a group of walkers. (always a tough round when you walk Brockville).
Mulder
says the third star of the day were the ladies playing the Brockville Club Championship ahead of us because they kept up the pace of play enough that we finished our slammer event in 4 hours. It was AWESOME with almost no waiting until the last few hole.

Onsite Coordinator

Stats

Attendance: 6
Scoring Average: 98
Birdie Average: 0.17
Course Rating: 9.5
Best aspects of course: Greens

Kids

Event Fees

ST Member: $56
EG Member: $48
EG Unl. Member: $41

Total for The Kids
UPSETS
DEFENCES
Challenger
Defender
Hole
Challenger
Defender
Hole
Sutty [

76

]
Mulder [

34

]
13
Potter [

148

]
Irons [

41

]
16
Sutty [

76

]
Grumpy [

48

]
15
Potter [

148

]
Panda [

38

]
15
Grumpy [

48

]
Mulder [

34

]
18
INDIVIDUAL PLAYER STATS
Slammer
Score
Birds
Eagles
Dogs
Bones
Skins
Bones
Record
Points
Sutty
93
1
0
1
30
0
0
2-0-0
4
Irons
90
0
0
0
0
0
0
1-0-0
2
Potter
95
0
0
0
0
0
0
1-1-0
2
Grumpy
103
0
0
0
0
0
0
1-1-0
2
Panda
102
0
0
0
0
0
0
0-1-0
0
Mulder
106
0
0
0
0
0
0
0-2-0
0
Stay in touch with
Make-A-Wish.