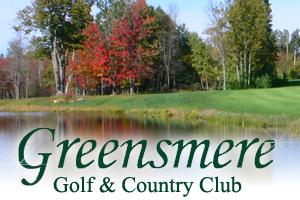 Greensmere Challenge History
Looking for a challenge?
The Slammer Tour welcomes the opportunity to take you on! Contact us.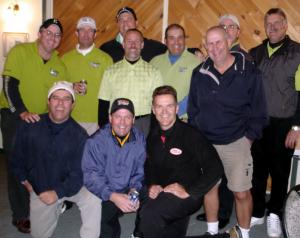 The 2006 Greensmere Challenge Team


October 14, 2006

Team Slammer makes a game of it but loose to Greensmere 27-21. Congrats to Ripzone and Hacker for being the only Slammers to take all 4 points and special congrats to Chilly for canning a 15-foot birdie putt on 18 to get the draw with Lyle Alexander and the win over Darren Forbes. Chilly shot an even par 72 as the Slammer anchor!
Team Slammer is improving each year. Those who have qualified for the 2007 Greensmere Challenge by taking any points or breaking 80 are Ripzone, 3Putt, Hacker, TriPod, TanMan, Ticklar, Rulz and Chilly. Four spots are now open for qualifying for all Slammers.
Special thanks to Gerry Bower from Greensmere for helping coordinate the event and for doing a primo job of collecting the results. Slammers look forward to having some of the Greensmere players take part in a few Slammer events next season. See you then!
Slammer Victories

Hole

Greensmere Victories

Hole
Darcy "Ripzone" Jenkins over Frank Szabo
15
Frank Szabo over Glen "Magnum" Quinn
16
Darcy "Ripzone" Jenkins over Gord Collyer
18
Gord Collyer over Glen "Magnum" Quinn
14
Frank "Tripod" Theoret over Mike Pratt
17
Ted Mepham over Peter "3Putt" Petit
15
Michel "Hacker" Denis over Mike Pratt
17
Ted Mepham over Roch "The Rock" Lalande
15
Michel "Hacker" Denis over Dan Newell
18
Randy Burnie over Roch "The Rock" Lalande
18
Dale "TanMan" Dorion over Gerry Bower
16
Maurice Chan over Max "MadMax" Barr
14
Jamie "Rulz" Ryan over Chris Pilon
15
Maurice Chan over Dale "TanMan" Dorion
17
Gabe "Ticklar" Louli over Chris Pilon
16
Gerry Bower over Max "MadMax" Barr
16
Jerry "Chilly" Stewart over Darren Forbes
18
Paul Lafreniere over Jamie "Rulz" Ryan
16
Paul Lafreniere over Gabe "Ticklar" Louli
16
Lyle Alexander over Neil "The Lad" Cascagnette
13
Darren Forbes over Neil "The Lad" Cascagnette
13
Ties
Peter Petit & Randy Burnie
Frank Theoret & Dan Newell
Jerry Stewart & Lyle Alexander
Individual Player Scoring/Stats

Player

Team

Score

Record
Points
CTP
Skin
Alexander, Lyle

Greensmere

71

1-0-1
3
#7
#8 (bird)
Barr, Max

Slammer Tour

86

0-2
0
.
#1 (bird)
Bower, Gerry

Greensmere

80

1-1
2
.
.
Burnie, Randy

Greensmere

86

1-0-1
3
.
.
Cascagnette, Neil

Slammer Tour

81

0-2
0
.
.
Chan, Maurice

Greensmere

75

2-0
4
.
.
Collyer, Gord

Greensmere

84

1-1
2
.
.
Denis, Michel

Slammer Tour

81

2-0
4
#12
.
Dorion, Dale

Slammer Tour

78

1-1
2
.
.
Forbes, Darren

Greensmere

73

1-1
2
.
.
Jenkins, Darcy

Slammer Tour

81

2-0
4
.
.
Lafreniere Jr., Paul

Greensmere

75

2-0
4
.
.
Lalande, Roch

Slammer Tour

90

0-2
0
.
.
Louli, Gabe

Slammer Tour

79

1-1
2
.
.
Mepham, Ted

Greensmere

84

2-0
4
.
.
Newell, Dan

Greensmere

79

0-1-1
1
#3
.
Pettit, Peter

Slammer Tour

87

0-1-1
1
.
.
Pilon, Chris

Greensmere

81

0-2
0
.
#16 (bird) and #18 (eagle)
Pratt, Mike

Greensmere

85

0-2
0
.
Quinn, Glen

Slammer Tour

88

0-2
0
.
Ryan, Jamie

Slammer Tour

79

1-1
2
.
Stewart, Jerry

Slammer Tour

72

1-0-1
3
#14
Szabo, Frank

Greensmere

86

1-1
2
Theoret, Frank

Slammer Tour

80

1-0-1
3