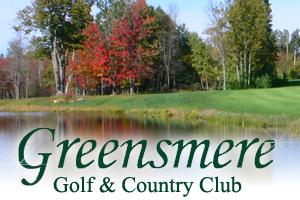 Greensmere Challenge History
Looking for a challenge?
The Slammer Tour welcomes the opportunity to take you on! Contact us.

Saturday, October 11, 2008

In the 6th annual Greensmere Challenge, Slammers put up a great fight with lots of very close matches but in the end they fell a little short to a very tough Greensmere team and lost overall 30-18. The weather was absolutely perfect and the course was in A1 condition with slick greens. A new ladies division was added this year which was great to see! Special thanks to Gerry Bower for coordinating and handling all the scoring.
Some Slammer highlights
Beatnik only Slammer to take all 4 points (and shot 77!)
JRoots eagles the 18th to win one of his matches and take a skin!
Toro shot a 75!
Toots took 1 dog, 1 skin, shot 76 and took 3 points!
Lefty had low Slammer score of the day with a 74!
Rulz had 6 birds (5 on the front) and held on to take 3 points!
Individual Slammers points
Beatnik: 4
Tootsie: 3
Rulz: 3
Lefty: 2

Toro: 2
JRoots: 2
Doyzee: 2
3Putt: 0

Chilly: 0
IronMaiden: 0
Crenshaw: 0
Chuckie: 0
Slammer Victories

Hole

Greensmere Victories

Hole
Darquise "Tootsie" Leduc def Linda Crouch
17
Kim Simard def Lisa "IronMaiden" Muise
11
Pat "Beatnik" McGowan def Gord Collyer
16
Linda Crouch def Lisa "IronMaiden" Muise
11
Pat "Beatnik" McGowan def Michael Pratt
18
Gord Collyer def Todd "Chuckie" Bruno
15
Marcel "Toro" Desilet def Ted Mepham
15
Michael Pratt def Todd "Chuckie" Bruno
14
Jamie "Rulz" Ryan def Malcolm Morton
16
Ted Mepham def Greg "Crenshaw" McComb
18
Mike "Doyzee" Doyon def Tony Wilson
13
Paul Lafreniere def Marcel "Toro" Desilet
17
Jason "JRoots" Bullock def Tony Wilson
18
Paul Lafreniere def Greg "Crenshaw" McComb
14
George "Lefty" Carson def Darren Forbes
18
Steve Lemmex def Peter "3Putt" Pettit
16
Malcolm Morton def Peter "3Putt" Pettit
18
Lyle Alexander def Mike "Doyzee" Doyon
15
Lyle Alexander def Jason "JRoots" Bullock
16
Adam Kingsbury def Jerry "Chilly" Stewart
16
Adam Kingsbury def George "Lefty" Carson
16
Darren Forbes def Jerry "Chilly" Stewart
18
Ties

Kim Simard & Darquise "Tootsie" Leduc

Jamie "Rulz" Ryan & Steve Lemmex
Individual Player Scoring/Stats

Player

Team
Points

Score

CTP
Skin
Kingsbury, Adam
Greensmere
4
72
14
Lafreniere Jr., Paul
Greensmere
4
73
Carson, George
Slammer Tour
2
74
Alexander, Lyle
Greensmere
4
74
9
Desilet, Marcel
Slammer Tour
2
75
Lemmex, Steve
Greensmere
3
75
Simard, Kim
Greensmere
3
75
7
11
Forbes, Darren
Greensmere
2
76
Ryan, Jamie
Slammer Tour
3
76
5
Leduc, Darquise
Slammer Tour
3
76
12
12
McGowan, Pat
Slammer Tour
4
77
Stewart, Jerry
Slammer Tour
0
78
10,15
Doyon, Mike
Slammer Tour
2
78
Bullock, Jason
Slammer Tour
2
78
18
Mepham, Ted
Greensmere
2
79
Morton, Malcolm
Greensmere
2
79
Pettit, Peter
Slammer Tour
0
80
Collyer, Gord
Greensmere
2
81
Wilson, Tony
Greensmere
0
82
McComb, Greg
Slammer Tour
0
82
Pratt, Mike
Greensmere
2
84
3
Crouch, Linda
Greensmere
2
85
Bruno, Todd
Slammer Tour
0
90
Muise, Lisa
Slammer Tour
0
95